A holder of mutual fund shares, equity or bonds with a registered mutual funds company can apply to change his/her registered signature or to provide a new signature in case of non-availability by filling the following affidavit form through the company's official Registrar and Transfer Agent (RTA).
Along with the request to change/add a new signature, the applicant will also have to provide his/her consent to the company in written form, agreeing to various terms and conditions as mentioned below.
AFFIDAVIT (FOR CHANGE OF SIGNATURE/NON AVAILABILITY OF SIGNATURE)
It has the following 9 parts:
1. Folio Details
The shareholder will provide details, such as his name, present address, company (mutual funds) name & address, details of the folio, folio number, number of shares, name of the company, certificate number, etc.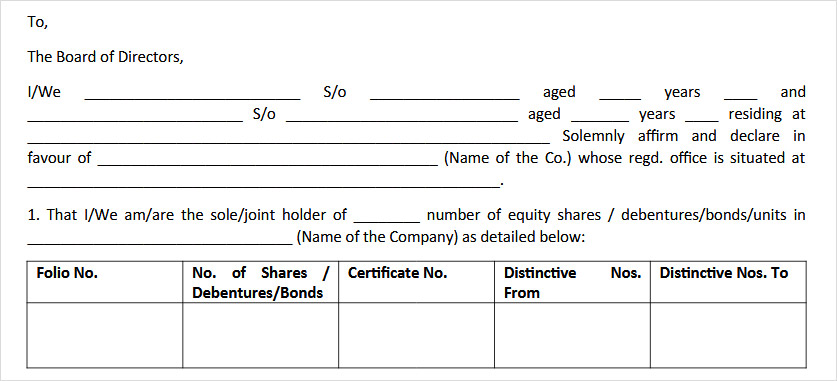 2. Address Declaration
This is the declaration that the applicant is presently residing at the above-mentioned address and has not changed his/her address in the past 3 years. Otherwise, he/she will enclose an attested proof of new address.

3. Share Declaration
The shareholder declares that the above shares were purchased by him and mentions the purchase year.
4. Old Signature Cancellation
Provides his/her consent that his/her current signature recorded with the company should be cancelled as they are no longer valid or have changed.

5. New Signature Validation
Provides his/her consent that his/her new specimen signature provided along with this document should be recorded with the company as an effective replacement of his/her existing/current signature with the company.

6. Affirmation of Non-Liability of Company
The shareholder/applicant affirms that the company or its agents cannot be held responsible for any possible consequences that may occur in reaction to this request of changing the signature.

7. Affirms for Transfer Deeds
The applicant confirms that the transfer Deeds for the sale of securities bearing his/her new signature should be considered valid.

8. Identity & Address Proof
The applicant provides self-attested copies of his/her identity proof, address proof and a recent photo.

9. Verification
Hereby client provides his/her verification of the information and format of the Affidavit.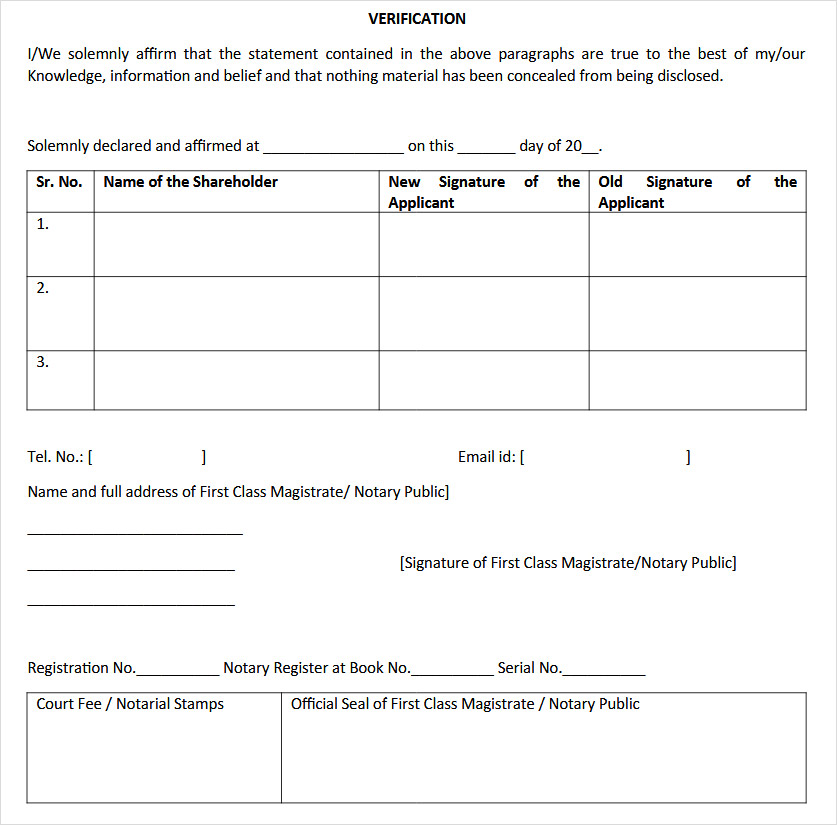 With the complete procedure detailed here, one can assure his/her signature change with the Registered Transfer Agent. Also, the form guides through the information required by an investor at the time of signature change process and form filing process.