Shares are offered by the companies of India incorporated under the Companies Act, 2013. These shares are either present in physical form or electronic form. Tangible share certificates owned by the investors are physical shares having a physical presence; whereas, shares present in electronic form are dematerialised shares owned by investors' in their Demat account.
So, we can say that Demat account refers to an account, used to hold shares and securities which are present in electronic format.
It should be noted that as per the latest notifications of Companies Act, 2013, it is made mandatory to hold the Shares and Securities in Demat Form with effect from October 2, 2018, which also meant that post 1st October 2019 the companies would not be allowed to transfer the physical shares and securities.
This germinated a need for investors to open a Demat account at the earliest and submit Dematerialisation request.
Dematerialization of shares refers to the process of conversion of Physical shares into an electronic form. After the dematerialisation, when the shares are transformed into the electronic or dematerialised form, they are kept in the Demat account of the investor. Let us read about the Demat Form in detail.
Demat Account
Demat Account was introduced by the SEBI(Securities and Exchange Board of India) which is India's largest regulator for securities, in the year 1996 to facilitate the online trading of shares and securities.
Read Also: What is the Procedure To Convert Physical Shares into The Demat Form?
Demat account is just a bank account with a difference it holds shares, bonds, mutual funds, and other akin investment securities, rather than money. A Demat account is highly beneficial for daily online-traders who purchase and sell the shares & securities regularly.
However, now it is mandatory to hold shares in Demat form for all the traders irrespective of their frequency & regularity of transactions, so all the investors & traders need to open a Demat account.
Now, we shall discuss the procedure to open the Demat Account. But, before we get on to that topic, we shall know two important terms in this regard i.e. Depositories and Depository participants.
Depositories and Depository Participants.
Depositories refer to the bank or organization or institution which holds securities and facilitates its trading. There are two SEBI registered depositories in India which are The National Securities Depository Limited (NSDL and The Central Securities Depository Limited (CSDL). These two depositories hold all the electronic securities & shares and all the transactions can be executed only through them.
On the other hand, the depository participants (DP) are intermediaries between the investor and the two main depositories. A Demat account of an investor is opened with DP.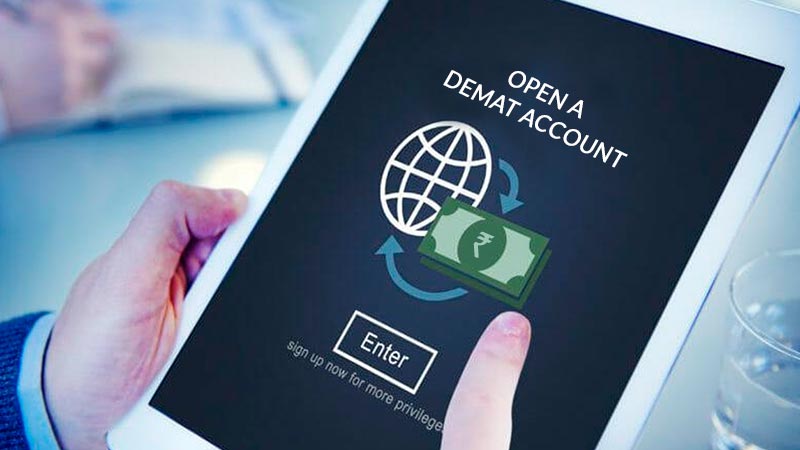 Step-by-step process to open a Demat account
Step 1: Opt a depository participant among various financial institutions like banks, brokers, etc. which act as depository participants.
Step 2: Fill the Demat account opening form and submit photocopies of all the required documents specified in the form.
Step 3: When all the required documents are submitted, an in-person verification is Conducted by the DP.
Step 4: Once all the credentials are duly verified, a unique account number is provided to the applicant by the DP, to allow the applicant to access his/her online Demat account.
The expenditure involved in opening a Demat account
After the above mentioned four steps, an agreement copy enlisting the terms and conditions, norms & regulations along with the applicable charges is sent by your DP.
In general, most of the DPs do not charge anything for opening a Demat account, while some of them charge a certain amount or some refundable charges.
An applicant has to pay some transaction fees, annual maintenance fees along with conversion fees for the dematerialisation of shares & securities.
Read Also: Know The Advantages of Dematerialisation
Things to be kept in mind while opening a Demat account
Time-frame of approx 7 to14 working days takes place for a Demat account to get opened.
More than one Demat accounts can be opened with different DPs.
No minimum share balance is needed to get a Demat account opened.
A beneficiary should be added by you when you open your Demat account.
KYC compliance is compulsory for opening a Demat account.
KYC compliance
KYC compliance is a mandatory requirement for opening a Demat account. An applicant shall submit the following documents to his/her DP top get a Demat account opened.
Proof of identity: An applicant shall submit any government recognized identity proof like Aadhaar card, PAN card, Passport or Voter ID.
Proof of address: An applicant shall submit any government recognized address proof utility bills, ration card or identity proof with an address on it like Aadhar card, driving license and passport.
Bank details: An applicant shall submit his/her bank details like Bank account number, etc.
Advantages of Demat Account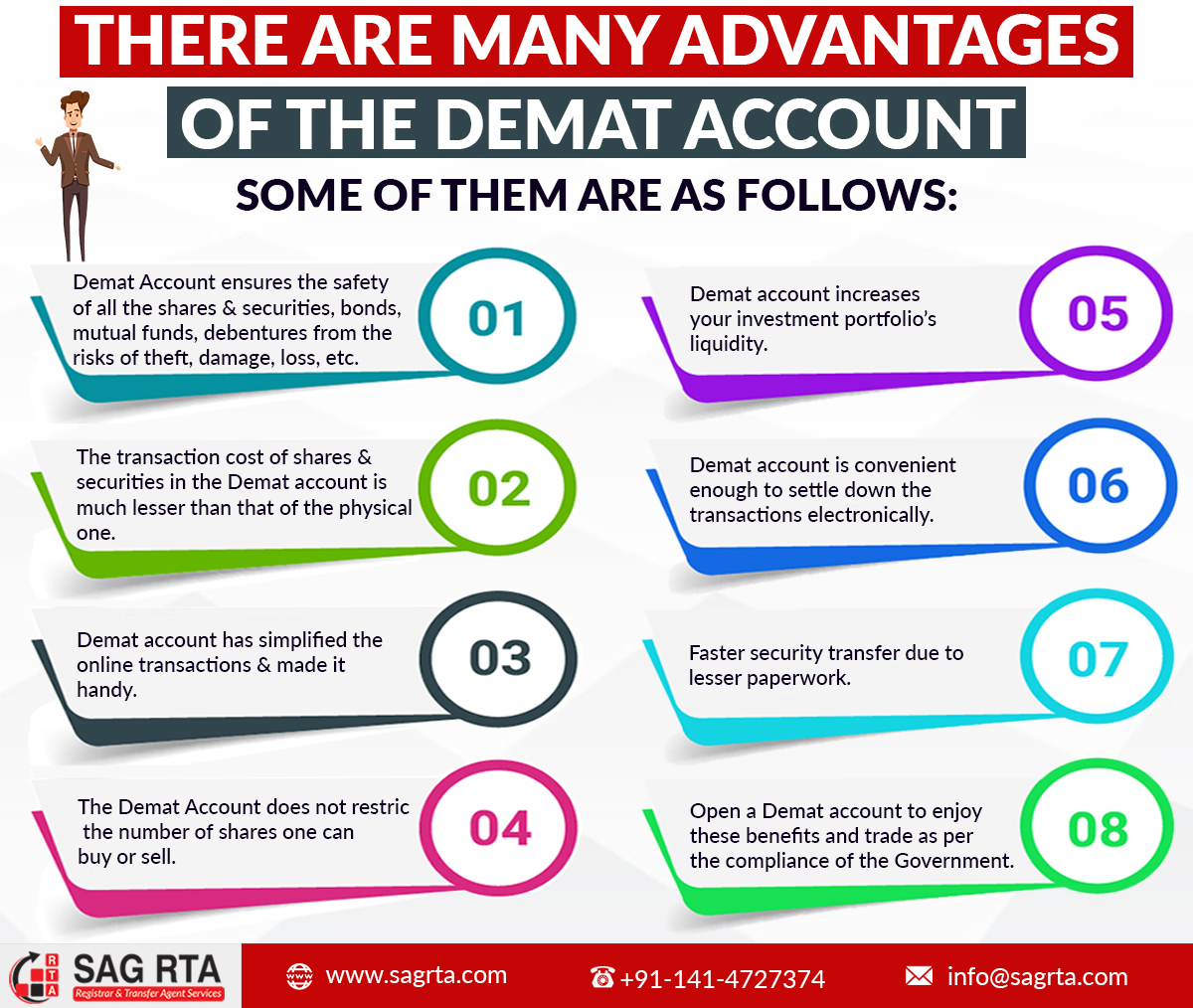 There are many advantages of Demat account. Some of them are as follows:
Demat Account ensures the safety of all the shares & securities, bonds, mutual funds, debentures from the risks of theft, damage, lost etc.
The transaction cost of shares & securities in the Demat account is much lesser than that of the physical one.
Demat account has simplified the online transactions & made it handy.
The Demat Account does not restrict the number of shares one can buy or sell.
Demat account knocks off the risks of fake or bogus certificates, delayed transfers, bad deliveries, and thefts, which were present with physical shares.
Demat account increases your investment portfolio's liquidity.
Demat account is convenient enough to settle down the transactions electronically.
Faster security transfer due to lesser paperwork.
Open a Demat account to enjoy these benefits and trade as per the compliance of Government.
For someone in need of Registrar & Transfer Agent Services, the SAG RTA is there to serve its clients with utmost excellence with its world-class infrastructure and talented skilled experts having complete professional know, a ledge in the mutual fund industry.
The SAG RTA delivers multiple RTA Services facilities including dematerialization of shares and complete record keeping of the clients while also holding meetings and contact with depositaries such as CDSL NSDL etc.
SAG RTA is open for all the clients looking for overall mutual fund-related services as the agency is first in Rajasthan as well as category 1st Registrar and Share Transfer Agent in the industry.